Creativity and Innovation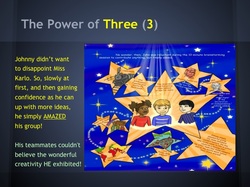 Overview:
The Power of Three
Well-known economist, Richard Florida, wrote:the engine that drives our economy is Creativity.
In the
Power of Three
app, Johnny, the "lazy" Reluctant Learner, transforms into a Change Leader and Classroom Champion.
He provides vision and new direction to his table teammates and finally his whole class.
What could have been
bully-like, destructive behavior changes into constructive, productive behavior.
The Power of Three
All participants are exposed to Fluency and Flexibility skill training quickly and easily, effortlessly delighting in this stimulating educational activity that aims to expand on the engaged learner's abilities, further developing their potential. Creative thinking varies by levels and degree, but individual knowledge bases can be enhanced, and the
Power of Three
helps learners to get fired-up in finding the magic of discovering, developing and utilizing their own many talents.
The Power of Three
Why?
Because of the world's complexity, change and competition, the ability to generate new ideas and bring them to the table is a critical life skill, essential for successful business.
The Power of Three
Why? Creative thinking skills are useful in any discipline. Linus Pauling, the physicist wrote, "The best way to have a good idea is to have lots of ideas."
This book app,
The Power of Three
, seeks to promote ideation (many ideas!) and to enhance each child's ability to go "On beyond Z!"
"Get moving, go get it!" The Power of Three. It's HERE! --->
http://itunes.apple.com/us/app/power-of-three/id563105854?mt=8
++++++++++++++++++++
Your Turn Now! We hope you accept one or more of the challenges below!
In the Power of Three app, one screen tells facts about U.S. Presidents.
Wouldn't it be great if you created a Fact Book or produced a video of your own favorite Presidential Facts?
Or made up your own
Secret Code
using just three letter words?
Or perhaps made up
your own story with 3 characters or elements?
Or maybe a poem or
song
with Three? ..............
READY?
SET.....
GO!
Here' s an old Kindergarten ditty I remember that taught about
Street Safety:
Do you know what traffic lights say to you?
Do you know what traffic lights say to do?
Yellow says be careful, Green says you may go,
But Red is most important, it says STOP! you know!
Additional Adventures with THREE (3) to delight in:
(These links are for educational use only. Please let us know if a link is broken. Thank you!)
Morse Code: SOS! SOS! SOS! ... _ _ _ ...
http://en.wikipedia.org/wiki/Morse_code
(Can you decipher this word with the help from Wikipedia's Morse Code website? _ .... ._ _. _._ ... ) !!!
Folk Tale: The Three Billy Goats Gruff
http://www.pitt.edu/~dash/type0122e.html
These tales were translated and/or edited by now retired Pitt Professor, D. L. Ashliman (May, 2000)
Maybe you'd like to make a diorama of this story using a shoebox to start.
Or perhaps you'd like to act this tale out with your family or friends? Who would you MOST want to be?
Gold, Silver and Bronze - 3 Kinds of Medals awarded at the Olympics!
Can you find out which THREE countries won the most medals? Who won the most Gold? Most Silver? Most Bronze?
Like to count in different bases? How would you write the number 3 in Binary (Base 2)
http://en.wikipedia.org/wiki/Binary_numeral_system
How about the number three in Base 3? Challenge yourself to think of some more great combinations.
Children around the world love playing "Rock, Paper, Scissors!"
http://en.wikipedia.org/wiki/Rock-paper-scissors
Can you show with your hands what each means?
Can you make a drawing using only the 3 Primary Colors?
http://en.wikipedia.org/wiki/Primary_color
Take a photo of your drawing and send it to us! :-) You might find it on our website!
Tic-Tac Toe:
http://www.prongo.com/tictac/index.html
(Prongo: A free educational website for kids)
Some students found great delight in trying to sing the names of the first 15 elements! Go ahead and try... to the tune of "10 Little Indian Boys!"
Then see if you can go even further! Challenge yourselves.
http://en.wikipedia.org/wiki/Lithium
<----- the 3rd Atomic Element is Lithium!
Detectives: Can you find the 3 most important uses of Lithium in the USA in 2010?
Here's one of my all-time favorite math challenges!
What would you rather have, 10 million dollars in 30 days, or 3 cents tripled over the same time period?
Set yourself up a little spreadsheet. In one column, number from 1 to 30 with the label of DAYS at the top.
In another column, place the word AMOUNT. Put 3 in the first column below it.
Now, using the formula, put sum=that first number (3) TIMES 3.
Once you hit "Return" or "Enter,"
it should read 9, as in nine cents, right under your 3.
Now, highlight the column from the top down to your 30th day, and use the FILL function (Fill Down).
Only use this one if you get stuck!
http://wiki.answers.com/Q/If_you_start_with_1_penny_and_double_your_money_every_day_how_much_will_you_have_in_30_days
What's your answer?
Like Sports? What association does the number 3 have with these Sports?
Ice hockey? _______
Baseball? _________
Basketball? _______
The word "Turkey" is associated with the 3 and what sport? _________
Dale Earnhardt and 3 and 03? ___________
Football? ___________
What 3 events make up a Triatholon? __________, ____________, __________
Cricket? ___________
Volleyball? _________
What 3 letters does the number 3 represent on a telephone keypad? Try not to peek!
http://www.secretcodebreaker.com/messages.html
Like deciphering Secret Messages? Coding detectives, this is for you!
You can learn to play simple songs on your keypad using only THREE numbers!
http://www.ehow.com/how_5724494_play-songs-phone-keypad.html
Can you name this one?
3,2,1,2,3,3,3
2,2,2
3,3,3
3,2,1,2,3,3,3,3,
2,2,3,2,1
Staying with music,
there are 3 notes in a triad, the basic form of any chord.
http://guitar.about.com/library/blguitarlessonarchive.htm
This site will have you playing the guitar quickly!
Can you play a C chord? D? F?
Music again! What special city is associated with "3" in the U.S. Marine's Hymn?
Can you sing the words to the first stanza? Play the tune on a recorder?
This will help you if you'd like to read the notes/words on sheet music
:
http://www.marineband.usmc.mil/learning_tools/library_and_archives/resources_and_references/marines_hymn.htm
Besides the 3 Shepherds who followed the Star to find the baby Jesus, there were 3 WISE MEN.
They traveled far to deliver special gifts. What were they?
For extra bonus points, name the 3 Kings.
And to really score yourself high, name the countries they supposedly represented!
Use this website ONLY if you can't find the answers yourself!
http://en.wikipedia.org/wiki/Biblical_Magi
Find two other friends. Ask them to rank the top three people in history.
You do the same, then compare your answers. Were any of them the same?
Would you rank your score differently now or stay with your original answers?
Would any of you change your minds to agree to a common scorecard?
"Three is a Magic Number!" School House Rock
http://www.youtube.com/watch?v=LVfe6rdHRKI
View the words to School House Rock's "Magic Number here:
http://www.schoolhouserock.tv/Three.html
"The past and the present and the future.
Faith and Hope and Charity,
The heart and the brain and the body..."
++++++++++++++++++++++++++++
WEBSITES FOR FURTHER CONSIDERATION: CREATIVITY AND GIFTEDNESS!
Hoagies' Gifted Education Page
<---certainly one of the best sites on the Internet!
Gifted Online Communities and Resources
<------ Gifted Support from Around the World!
Websites relating to Creativity
Creativity Web
(Creation of Charles Cave from Australia
http://www.csus.edu/indiv/k/kiddv/creativesolutions/pages/links.htm
101 Ways to have a more Creative Classroom:
http://rashidfaridi.com/2012/07/19/creativity-boosters-for-teachers/
Creativity Boosters for Teachers <<<-From Rashid's BLog--Guest Post by Tim Handorf
Life Dev:
http://lifedev.net/2008/04/17-obscure-creativity-sparking-websites/
@Copyright mimbizic.com, 2012
Email Mim Bizic at
m.bizic@comcast.net
Select from below to read more:
Power of Three app
Creativity and Innovation
Blog
Bio and 3s
News and Contact
---
"Enthusiasm is Excitement with these 3 elements: Inspiration, Motivation, and a pinch of Creativity!" ------ Bo Bennett