Mim Bizic's Biography

Lucky Mim, #3!


The number "3" just seems to be following me around. This first photo shows me sitting at Table "3" at the wedding on May 12, 2012.


---

Going down to go UP!


How great is this? Parking lot, level 3! To get to the Banquet I was attending, I had to take the elevator down from the 3rd floor!


---

The Power of Three


Can't wait for you all to be a part of this too! Our app is the culmination of a year's efforts!


---

A famous painting...


Are you familiar with Andrei Rublev's painting of The Holy Trinity? I always did think the #3 was like magic because of this, the Holy Family, my own family, my son's family. That 3 is Everywhere!


---
Don't judge education by the harvest you reap, but the seeds you plant. (Robert Louis Stevenson)

It is better to light a candle than to curse the darkness."- Old Chinese Proverb
"If past history was all there was to the game, the richest people would be librarians."-Warren Buffett
"If you walk with purpose, you collide with Destiny." Beatrice Berry
"Who can find a virtual librarian for her price is far above rubies." Doug Johnson after Proverbs 31:10 I have always tried to follow Doug's advice to be a Virtual Librarian, Crowsnester, and Rabble Rouser, not as a Critic, but one of a builder. "No more prizes for rain. Prizes only for building arks."


Background information



​

Milana ("Mim") Karlo Bizic earned a B.S. degree in three (3) years from the University of Pittsburgh where she had a four-year scholarship; a Master's Degree in 1967; School Library Certification in 1970; and Gifted and Talented Certification in 1981. Her professional experience includes teaching all Elementary grade level students K-6; Teaching Graduate level courses for Penn State University (Beaver Campus for nine years until 1994), Carlow College and the Allegheny Intermediate Unit, where she taught fellow educators how to creatively integrate computers into their curriculums across all disciplines and all grade levels, K-12; working as a Supervisor of Student Teachers for the University of Pittsburgh (Pitt) after she retired from working 40+ years teaching in the public schools, most notably for Quaker Valley School District in June, 2004.

Mim has served as an Educational Consultant to the U.S. Department of Energy, the U.S. Department of Commerce, Apple Computer Co, Scholastic Magazine, and the Smithsonian's Air and Space Museum. A national presenter for the U.S. Patent Office, Mim has shared her creative and inventive thinking skills expertise with teachers from Portland, OR to Toldeo, OH. She did similar work with the INVENT AMERICA! foundation, reaching out to teachers in Chicago and Washington. She's been a Co-Keynote Speaker for the Ben Franklin Computer Conference held at Carnegie-Mellon University and the Computer Using Educators (CUE) of Delaware.

Apple Computer Co. and Modern Pictures Services asked Mim to use her creativity and computer technological know-how to write lesson plans in workshops held in Cape Cod, Massachusetts; St. Petersburg, Florida; and Maui, Hawaii.

Bizic helped write the educational resource handbook for the permanent Smithsonian exhibit, "Beyond the Limits, Flight Enters the Computer Age." She wrote lesson plans on Clean Coal Technology for the Pittsburgh Energy Technology Center.

She was a member of the National Advisory Board of Scholastic Inc.'s TEACHING AND COMPUTERS

She has piloted several programs for the University of Pittsburgh's Regional Computer Resource Center, including the popular "Voyage of the MIMI" series.

Mim and her students won numerous awards, including First Place National Awards for Apple Computer Co. 1985 (Ancient Egypt); 1986 (Ancient Greece and Rome); and 1987 (Space) before being placed in the Apple Hall of Fame, and then again in 1989, with a unit on Women's History, that also garnered a First Place State Award from the Pennsylvania Commission for Women's "Women's History Month Contest."

Mim was named "Woman of the Year" in 1987 by the Sewickley HERALD, recognized for her many achievements on behalf of the children of the Valley.

In May, 1988, she won the Judge's Choice Award sponsored by the Boston Apple Fest, and traveled to Boston to accept the great honor on behalf of her hard-working students.

She also earned an "Excellence in Teaching" Award from the PA Assoc. of Gifted Education in 1989.

In August of 1990, she was a Grand Prize Co-Winner with Dr. Merle Marsh of Delaware, for the FIRST "Johnny Appleseed National Awards Contest, sponsored by the Computer Users for Social Responsibility and the Macintosh Users Group (MUG) News Service.

Mrs. Bizic was named the National Honoree for the Smithsonian's ASTC Award (Association of Science and Technology Centers) for National Technology Week in 1989.

She was named a First Place Honoree for the FIRST "Thanks to Teachers" contest sponsored by Group W Broadcasting (KDKA), Westinghouse, Pitt, NFIE and NAB in June, 1990, the first year of the Award.

Bizic was appointed a panel member to U.S. Congressman Rick Santorum's "18th Congressional District's Schools of Excellence Recognition Program" in 1991-1992.

She served as a panelist in Washington, DC for a conference sponsored by the U.S. Department of Energy (DOE) in 1992 after winning an appointment for the Elementary Teacher Research Internship (ETRI) in 1991.

She was listed in the "Who's Who in American Teaching" of 1992, nominated for the award in the first year of the award by senior high school student, Melissa Barrick.

During the 1992-93 school year, Mim was a "Piloteer" on the INTERNET for the PA Department of Education, where she successfully had Sewickley teachers and students conducting scientific experiments, sharing poems and plays with students throughout the USA and the rest of the world community.

Her Internet travels led to her being named as an Educational Ambassador for the state of Pennsylvania to the city of Omija, Japan, in 1993.

Mim was named to Marquis' "Who's Who of American Women," in January, 1995.

In June of `95, Mim was selected as one of twenty recipients of a five week National Endowment for the Humanities Grant entitled "Japanese Culture Through Literature."

June '96 found Mim accepting a CERTIFICATE OF RECOGNITION FOR LEADERSHIP from the PA School Librarians Association for her roll in helping to bring the World Wide Web to the Sewickley community.

In 1997, she and fellow innovators, Dr. Robert Fusco and Dr. Joseph Marrone, along with the SNET Board of Directors, accepted a "CITIZEN OF THE YEAR" award from the Sewickley HERALD for SewickleyNET, the community's first official presence on the WWW.

Mim has spoken to various groups and clubs across the nation on Molas (folk art of the Kuna Indians of San Blas Islands, Panama), Love Tokens from the Victorian Era, and Hobo Nickels. She has had mola displays in museums in PA, OH, and WV. She also addresses various groups on Serbian history or the "Forgotten 500" ---the 500 U.S. airmen rescued in WWII by General Draza Mihailovich and his Chetniks, a story that was covered up for more than 50 years.

She led a group of PA residents to Iptingen, Germany, birthplace of Fr. Rapp from the Old Economy Museum Site in Ambridge, PA, when she served on the Board of the Harmonie Associates.

Bizic has traveled extensively in other countries throughout Europe (England, Spain, France, Italy, Switzerland, Germany, Austria, all of the old Yugoslavia, Finland), Mexico, Russia in 1999, and Greece, Egypt, Israel and Turkey in 2000, Ireland and China in 2004 and a tour of Serbian Monasteries in 2006, including her 3rd trip to Kosovo, and again (4) to Kosovo in 2008 with the Kosovo Men's Choir of Eastern Ohio. In 2007, sister Rose treated her two sisters to a trip to Hong Kong, the Philippines, Malaysia, Brunei, and in Viet Nam, where Rose worked as Director of the Red Cross in VietNam in 1966-67 and then again in 1969-70. Italy, Spain, France were highlighted once again in 2011. Castaway Cay was the order of the day when Mim and her family traveled on a Disney Cruise in March of 2012. The summer and fall months were spent in Chicago, Phoenix, Washington, DC and at the Greenbriar, WV. And in October and November of 2013, she and her sisters traveled to Vienna, Ravenna, Split, Kotor, Cetinje, Budva (Montenegro), Dubrovnik, Syracuse, Malta, Naples, Sorrento, Pompeii, and Rome. The east coast of the USA and Canada were stops in 2014. The year 2015 was quite a busy one, with a trip to Holland, Michigan, followed by a trip to the REAL Holland! We traveled to the Netherlands, Copenhagen-Denmark, Berlin-Germany, Tallin-Estonia, St. Petersburg-Russia, and Helskinki-Finland and Stockholm-Sweden, enjoying every minute of our 16 day journey visiting 7 countries! Local trips to Hershey, Meadowcroft Village, Latrobe (Steeler Camp), and Shadeland, PA before heading out again to visiting all of Ireland, North and South and enjoying the new TITANIC Exhibit in Belfast, Ireland. We ended the year with a trip to West Point, NY for a Christening, then a Choir trip to Hamilton, Ontario, Canada, a visit to Stan Hywet Hall and Gardens in Akron, OH, and later, a trip to Breckenridge, OH and the glass factories.

​
AN UNEXPECTED HONOR:
Mim learned from friends on Facebook that she was named #16 of the most famous Serbs in the world, to her great astonishment. Of course, Novak Djokovic was #1, and she was so proud to be a part of Serbian history!

​Mim's desire is to educate, entertain, and inspire others nationally and internationally, to be a catalyst leader (energetic, supportive, and forward thinking) who can spark action and productivity in others!



---

Honors


I will never be able to forget the Parents, Faculty and Staff, the Students, Administration and of course, State Senator Rick Santorum for surprising me at a school-wide assembly program for my retirement with fellow faculty member, Sandy Wilson. Here, Rick presented me with a framed letter from First Lady Laura Bush. I also served on Rick Santorum's Educational Committee.

Other Honors:

Named #16 of the 100 most influential Serbs in the World by Blic Magazine of Belgrade, Tuesday, March 1, 2016, pp. 29-30.
"Kuma" for St. Elijah Serbian Orthodox Church in Aliquippa, PA 2012
Serb National Federation Person of the Year - 2oo8
Citizen of the Year with Drs. Fusco and Marrone for SewickleyNET: 1997
Serbian Unity Congress Award -1995-1996
Who's Who of American Women-1995
National Endowment for the Humanities Awardee-1995
Pennsylvania's Educational Cultural Ambassador to Japan-1993
Who's Who in American Teaching: 1992
National Science Awardee from the Smithsonian-ASCT: 1990
Thanks to Teachers Award (Pitt/Westinghouse/KDKA): 1990
Apple Computer Club International Awards 1985, 1986, 1987, 1989
Woman of the Year in Sewickley,PA -1987
Member of National Advisory Board of Scholastic Inc. Tchg/Computers

"The Sewickley Sesquicentennial Handbook featured an ad 'To Mim Bizic, a teacher who has inspired us and given us an enthusiasm for learning that will always be with us.' That's what Mim Bizic was known for--- not just for helping her students learn the basics--but for transferring a love of learning that is lifelong, for encouraging each of her students to, in Dr. Suess' words, "Go On Beyond Z," to stretch to their full potential, to go beyond the limitations set by others, to develop high self-esteem and become highly motivated self-starters for life." - AKN

100

---

Loved working with America's VETERANS!


Our school always honored the Veterans of ALL branches in a BIG way! We never did anything on a small scale! We had 50+ veterans come each year to school to share their experiences, and help us honor them for their sacrifices for our country.


---

"V" for Veterans and Victory.
WWII message on Canadian coinage in Morse Code: "We will when we work willingly!


The U.S. Marine Corps branch always had a large contingent of Veterans, and it helped to have the Marine Corps Anniversary one day before! :-)


---

Lt. Gov. of PA speaks...


"Milana, you have truly set an example that all should follow. As you continue to promote the principles of good character and purposeful living to achieve your goals, always remember the ideals of standing strong in times of difficulty and success.

"On behalf of the citizens of the Commonwealth of Pennsylvania, I value this opportunity to congratulate you on your contributions to the Serbian tradition. May you continue to enjoy
great success in all of your future endeavors.
Catherine Baker Knoll, Lieutenant Governor

---

So grateful to U.S. Congressman Jason Altmire!


Mim says: "I will never forget how when I opened a box from U.S. Congressman Altmire's office and found that the very popular Congressman had stood to enter my name and website of http://www.babamim.com into the 110th Congress' Congressional Record, my knees were shaking and I had to hold onto the counter! I just couldn't believe it, and will always, always be so grateful to him for his kindness!"


---

Thank you! BabaMim.com in Cong. Record!


Life is good!


Celebrating 130 Years of Diplomatic Relations


On Sept. 7, 2011, Moon Township Commissioners formally presented me with a copy of the Proclamation given to the people of Serbia via Jugoslav Cosic at the Township Building.
Previously, On Wednesday, August 25, 2011, a film crew led by Lauren Jackman for the U.S. State Department was in Pittsburgh to film stories that would show "!30 Years of Diplomatic Relations between the USA and Serbia." They (Lauren Jackman Director, TV Anchor for B-92 TV Jugoslav Cosic, and Cameraman, Vuk Dapcevic) stopped at my home, then visited the Serb National Federation (SNF "Savez"), and the University of Pittsburgh's Cathedral of Learning's Yugoslav Nationality Room. Jeanne Creese, Moon Twp. Manager, presented the guests with a Proclamation from the Moon Township Commissioners on behalf of the almost 40,000 residents and students studying at the University, sending greetings to the people of Serbia, and extending a hand of Friendship. This wonderful story appeared in the Allegheny West Magazine owned by Pat Jennette.


---

Moon Patch story......


This photo was taken by Jenna Stahl, 2011, when she wrote a story called "Woman Works to Preserve Serbian Heritage.


---
"The Power of Three" App Team:


More about Ayesha Deane, Illustrator


Artist and illustrator for more than 20 books, mainly Children's books. Ayesha says: "I love this particular line of work as I feel it is a great challenge to my creativity. I see each page as a work of art and fresh ideas are always required. It is my intention to create art that speaks."
And she does! What a great joy it has been to work with such talented people who shared a common purpose and goal of developing a unique learning experience for the end user(s)!


---

We know that many of you have been waiting anxiously for THE POWER OF THREE app to be finished and available on the Apple iPad App Store. We are pleased to announce that it is finished and we're sure you will be delighted in having this app to continuously work its magic in getting viewers to look at new ways of seeing things...... and being able to generate new ideas with more difficult levels of complexity. This story helps readers get fired up in finding the magic of discovering, developing and utilizing their many talents. You will be more than pleased!


---


Here's Dilip Kumer, Wondrous App Designer!


Dilip Kumar is the co-founder of GreatMinds Media Solutions, a Bangalore-based ePublishing Solutions Company that develops Digital ePublishing software platforms that help authors & publishers create interactive eBooks and apps in English and Indian Languages. He has 15+ years of technology industry experience and has played various roles in digital multimedia products development, sales and account management across APAC. At GreatMinds, he works primarily in the areas of technology strategy, business development and market research on eBooks, mobile apps and monetization of digital content. He is also involved in architecting various tools and applications in the creation, verification and rendering of multi-Lingual eBooks and Apps. He holds an Honors degree in Engineering from the University of Calicut, India.

Through the various interests and associations he has built within the technology and publishing industry, he strives to bring together the magic of digital transformation of books and the monetary benefits of web & mobile content delivery to Indian publishers and independent authors. His mission is to educate publishers and authors on the technical possibilities of creating stunning versions of Digital Books, increase revenues and margins through mobile delivery of digital content and help them ride the new waves of digital publishing that are sweeping across South Asia.

Dilip is incredible to work with. He makes things happen magically! It's been a wonderful journey thus far!


---
Those 3's just keep showing up and making us happy!

3 Coins in the Fountain!


Joanne Barron, of the Sewickley HERALD, is shown here holding a quarter, dime and a nickel that were in water. "What song do these remind you of?" Joanne was too young to remember "Three Coins in the Fountain!" She did a great job on the story @ the app found on the NEWS page!


---

Dilip's FAVORITE 3!


Dilip, the co-director of GreatMinds-Media. com and developer of our Apple iPad app, is shown here with his family: Wife Mini and lovely daughter Ayra.


---

Would you rather have a million dollars or 3 cents tripled for 30 days?


The Power of THREE (3)
Day 1 Amount =.03
Day 2 =$0.09; Day 3 =$0.27; Day 4 =$0.81
Day 5 =$2.43; Day 6 =$7.29; Day 7= $21.87;
Day 8=$65.61; Day 9=$196.83; Day 10=$590.49 Day 11=$1,771.47; Day 12 =$5,314.41
Day 13=$15,943.23; Day 14=$47,829.69
Day 15 =$143,489.07

And now, YOU figure out the rest! :-)

More Threes!

Fun seeing old students!


What a delight it was to find Brad Christof (far left), a former elem. school student in our Gifted program at Edgeworth Elementary School in Sewickley, PA,

at Nicky and Nicole Bellich's baby's Christening!
Brad and his beautiful wife, Becky, who took the reunion photo, had read all about the "Power of Three" ipad app in the Sewickley HERALD!


---

This is a GREAT app!


We know you're going to like this app and the ending words of these three great students: Max, Johnny, and Jocelyn! Jocelyn is a little like Aesop, adding a moral to the story: "Johnny proved that sometimes GREAT things come in small packages!"


---

Celebrating St. Elijah's Slava


Our St. Elijah Serbian Orthodox Church in Aliquippa, PA, USA celebrated its 98th Anniversary on Sunday, August 5, 2012.

Pictured here are V. Rev. Fr. Stevan Stepanov, parish priest for 39 years, Mim Bizic (honored Kuma), and the President of St. Elijah's Church, Micahel (Mickey) Mrkal. It was a grand day indeed, and I couldn't help but like the Power of THREE shown here!


---
3 Sisters at Trevi Fountain


Mim, Alex and Rose at the Trevi Fountain in Rome, Italy, in February, 2011. Of course we threw our 3 coins into the fountain too!



---

"If you only knew the power!"


Nikola Tesla, the famous Serbian-American genius, said, "If you only know the power of 3, 6 & 9, you would have the key to the Universe!


---

Waiting for you, here!


Send us your image of a special 3. We're holding this place open for you and YOUR ideas!


---
Counting to 3 with TILES!



These 3 Mahjong tiles of ONE, TWO & THREE reminded me of the beautiful Ivory carved Mahjong game we once had. Question to study.... if one bar=1, and 2 bars=2, and 3 bars=3, how do you write number four?
Also, is there a similarity to the Mayan numbering system?


---

Positivity (IPPA) Conference


Dr. Rose Gantner and sister Mim flanked by the Father of the Positivity Psychology Movement, Dr. Martin Seligman, in Philadelphia, PA.


---

A fan in the Houston airport!


When you look for them, those 3s are everywhere! Do you see any around you? These were in the airport restaurant.


---

The 3 Little Pigs Storybook


This is a story we're all familiar with!
The first little pig built his house of straw, the next constructed his house of twigs, but the 3rd little pig built his house of bricks!


---

Burnham's 3 Batman comics!


What a delight it was for me to receive not one, but all three of the issues of the BATMAN series comics illustrated by my former High Achievers Program (HAP) student, Chris Burnham, as a gift! From the earliest times, young Chris wanted to be a comic book illustrator! Good luck, Chris! How proud I am of the great name he's made for himself!


---

Ashanti and the # 3


The Ashanti of West Africa regard the number 3 as a lucky number, symbolizing the Moon goddess who, according to lore, is three people, two black and one white.


---

3 Knapp kids in D.C.!


These wonderful children belong to Dianne and Greg Knapp of Pittsburgh, PA. They enjoyed their family's trip to Washington, D.C., the capital of the U.S.A. The Washington Monument is in the background.


---

Mickey Belas and family


Mickey and her grandkids... 1st and 3rd generations....


---

Alison's 3 from Cape Town!


Alison Jencik Larcombe was visiting Cape Town, Western Cape with her family and posted this great photo on Facebook!
Of course, we knew it would be an INSTANT hit! Thank you, Alison!
You just never know how far back in the past (old friends!), or how far you need to travel to get a good "3"!!! Looks like these elephants are sharing info about THE POWER OF THREE! :-)


---

3 Javelinas in Texas


This cute mural of the 3 Javelinas grace the walls of my granddaughter's school library!


---

An image for 3 good tips.


If you could give someone 3 good tips for living a better life, what would they be?

If YOU had 3 wishes, what would you wish for? Would they be the same wishes, do you think, as your friend's?


---

Gail and her 2 sisters =3!


Gail Wagnild of Montana, shares a canoe ride with her two sisters on the East Rosebud.


---

Holy Trinity Choir, Pittsburgh



Looks like more than 3 people were here in this photo, but it IS the Holy TRINITY Choir of Pittsburgh, PA, which recently celebrated its 50th Anniversary, and this photo was in their HTC Serbian Orthodox archives.


---
Historical Society 3 Three Jovonovichs at their 3 Bizics holding hands
Sewickley Valley St. George Slava 2013 at St. Elijah's Slava 2012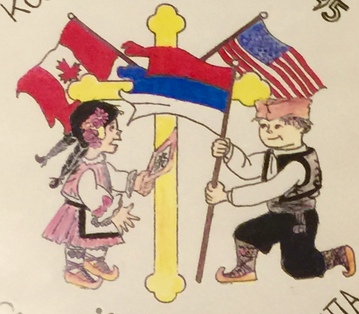 On a recent choir trip to Mississauga, Canada, Mim spied this lovely plaque with 3 flags: Canada, Serbia, America!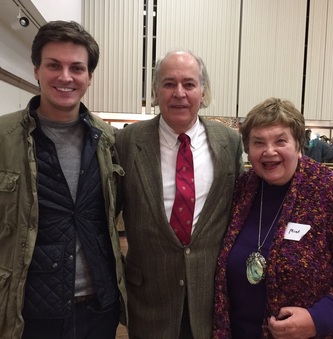 TWO Harton Semples and Mim. The younger Harton was a student of Mim Bizic's in the Edgeworth Elementary School. Harton Semple, Sr. is the Executive Director of the Sewickley Valley Historical Society.
---